Family Testimonial
Your kindness in our sorrow was deeply appreciated. My family, friends & I thank you for your wonderful service. I will read it often. H would have loved it. I will be forever thankful.

-- Love, C & family
---
In addition to scheduled programs, Marguerite speaks to groups large and small, and participates in panel discussions and workshops throughout the Midwest.

2015
Thursday, June 4, 2015, Marguerite presented for Women About Business @ Messiah Lutheran Church, Park Ridge; What Differentiates Me As a Funeral Celebrant.
Wednesday, June 10, 2015, Marguerite presented for Business Networking Lunch 'n Learn @ Ranalli's of Andersonville, 1512 West Berwyn Avenue, Chicago, IL 60640

2014
October 2 and October 9, 2014
Two programs at Women's Exchange. Time: 7:00 to 8.30 p.m.

1) Honoring Legacies:
What is your legacy? How do you want to be remembered? Who has imprinted your life in a meaningful way and how can you express your gratitude to them through a legacy letter?
Part one of two programs.

2) Celebrating Life:
Learn about changing trends in Celebration of Life services. Empower yourself to have the conversation, to prepare and reflect on options for yourself and those you love, to make guided and informed decisions. Part two of two programs:

All are welcome, even if you are not able to attend both programs.
2012
March 14, 2012
American Association of University Women
Glenview Area Branch
Marguerite O'Connor, participant on Author Panel, describing her experiences in self-publishing Griefstruck: When a Death Changes Your Life and Leading Change & Navigating Success.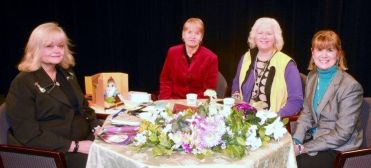 Attending Karon Gibson's 2012 program on AAUW: "Outspoken With Karon"
L to R: Karon Gibson, RN, Ruth Sweetser, Marguerite O'Connor, Cyndee Schaffer
November 17, 2011
Holy Family Church, Inverness, IL
"Joyful Again" group: Navigating the Holidays.
May 12, 2011, 1 p.m.
Oasis @ North Shore Senior Center
Funeral Celebrant: What Do You Do?
May 19, 2011
Omega Funeral Directors Association @ 7 p.m. in Palos Heights , IL
December 17, 2009 at 11 a.m. ~ Live radio interview
Listen to Marguerite as the guest on the "Healing the Grieving Heart" heard by over 500,000 people yearly. The show is sponsored by The Open to Hope Foundation and is aired on www.health.voiceamerica.com and archived on www.thegriefblog.com. and www.opentohope.com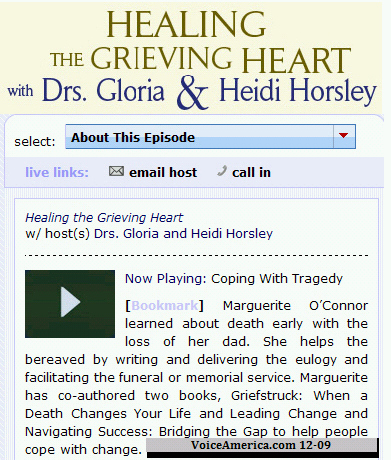 ---

January, 2010
---

Saturday, January 16, 2010 at 11 a.m. ~ Book reading

Join Marguerite O'Connor and Helen Gallagher in a celebration of sisters, for the launch of Sisters: An Anthology, published by Paris Press.


Thursday, January 21, 2010 at 8 p.m. ~ Joyful Again
For location information: email info@margueriteoconnor.com


---
---
OASIS
Change: How Are You Coping?
A dynamic, interactive discussion of this important topic: Take the change challenge. Learn to better understand your response to change. Learn how others are coping in these challenging times. Marguerite O'Connor teaches about change through her experiences as co-author of Leading Change and Navigating Success.